For drivers in the Stroudsburg, Lehigh Valley and Nazareth areas, sedans are a popular choice with their affordability, comfort, and extra space. They are not bulky like SUVs, but they do have more storage than a coupe or sports car. With the highly competitive market, there has never been a better time to buy a new sedan. However, the competitiveness means there are so many sedans to choose from. How do you know which is right for you?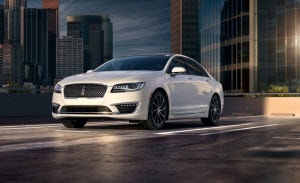 Using this helpful Lincoln MKZ vs. Ford Fusion comparison from Ray Price Lincoln, you can examine two of the best sedans available - the 2017 Lincoln MKZ and the 2017 Ford Fusion. Both vehicles have many exciting features to offer, but only one can best fit your needs. Discover which of these elite sedans would be perfect as your next car.
What Do You Want in an SUV?
People buy sedans for different reasons. Some want space. Some want comfort. Some want both and more. If you're one of the many in the latter category, then the 2017 Lincoln MKZ would be ideal for you. Lincoln has developed a feature called Lincoln Drive Control for the Lincoln MKZ, which allows you to customize the feel of your ride.
Coming with three modes, Lincoln Drive Control can configure your shock setting, transmission shift point, tractions control, throttle and steering response to deliver you the ride you desire. The three modes are normal, sport, and comfort. The Fusion was designed to be appealing to all types of drivers, but it does so by finding a middle ground between preferences. The MKZ allows you to swap back and forth.
Comparing Power and Performance
When you think of Lincoln, you probably don't think of power. The MKZ changes that entirely. The base model MKZ comes with an astonishing 245 horsepower while the base Fusion only gets 175 horsepower. Only the pricier sport V6 Fusion can compete with the raw power present in all Lincoln MKZ models.
The sport V6 Ford Fusion is impressive, but the Lincoln MKZ offers a 3.0-liter V6 that pulls more horses than two of average sedans combined. With a whopping 400 horsepower, the Lincoln MKZ's V6 version stands to be one of the most powerful sedans on the market, which is rare for a brand that specializes in luxury.
Lincoln MKZ vs. Ford Fusion Luxury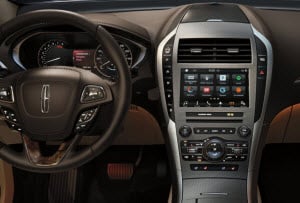 Lincoln is known for providing a fancy ride, and the Lincoln MKZ is no exception. With even the base models coming standard with leather seats, dual power front seats and the option for a sunroof, the Ford Fusion simply cannot compete. The Lincoln MKZ's sunroof specifically is a retractable panoramic glass roof. Just the simple push of a button can move the glass roof back, creating an opening not only larger than what the Ford Fusion can offer in its higher trims but larger than all other sedans available.
Adding to the opulent feel of the Lincoln MKZ are the premium materials used for the interiors. Lincoln uses Venetian leather, Alcantara fabric, and rich woods for Lincoln MKZ interior designs, creating an unforgettable theme inside. The Ford Fusion doesn't even come close to that degree of luxurious engineering.
Winner of the Lincoln MKZ vs. Ford Fusion
At the end of the day, the Lincoln MKZ has more to offer than the Ford Fusion. While they both are impressive and contain similar features, the Lincoln MKZ wins overall in terms of versatility, power and especially luxury. While you can read about its magnificent comfort all day long, the only real way to understand the 2017 Lincoln MKZ is to experience it for yourself - come to Ray Price Lincoln today for a test drive.
At Ray Price Lincoln, our expert team will provide all the knowledge and assistance to find the perfect car for you. Whether it's the Lincoln MKZ or one of the many other vehicles in our expansive inventory, we are dedicated to fulfilling your needs. Visit Ray Price Lincoln or call (888) 461-3485 to schedule your test drive today!