While your vehicle is working hard to get you over the road, you should be able to sit back and relax surrounded by luxurious amenities. When you choose the 2017 Lincoln MKX as your next SUV, you'll have all the tools you need to fully enjoy every drive.
No matter if you're recovering from a long day at the office or just appreciating a leisurely spin through the back roads, every inch of this vehicle will support your preferred level of comfort.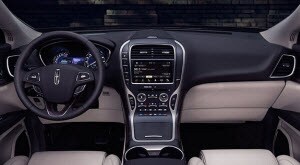 To get a taste for everything packed into the cabin of this dynamic SUV, start by reading this 2017 Lincoln MKX interior review created by Ray Price Lincoln. Soon enough, drivers of Stroudsburg, Lehigh Valley, and Nazareth will be eager to explore more about this road dominator.
Technology for the Ultimate Comfort
If you've been searching for a vehicle that makes you feel like you've stepped into a spa, look no further than the 2017 Lincoln MKX. Every feature in this SUV's cabin is designed to help you unwind.
To keep the interior of your automobile as soothing as possible, optional Active Noise Control sends sound waves through the audio system to reduce excess noise. That way, even your little ones can catch a quick nap without being disturbed.
While you're relaxing, you want to be sure your body stays supported. The optional Bridge of Weir Deepsoft leather-trimmed seating with heating and ventilating functionalities will help you do just that. Each chair features a 22-way multicontour construction that conforms to your body's unique shape.
As if that weren't enough, the available Active Motion® device gently massages your back and legs to ease muscle soreness and strain. With this gadget, you may never need to book an appointment with your masseuse again. For more on the Lincoln MKX impressive features, check out our full technology review.
2017 Lincoln MKX Interior: Cargo Conveniences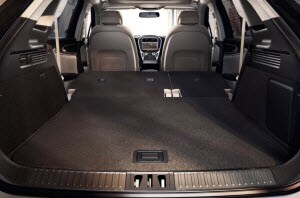 Planning a road trip? Well, if that's the case, the 2017 Lincoln MKX will get you there without question. While you're loading up this SUV with your luggage and other items, you can easily open the trunk without using your hands.
The hands-free liftgate automatically opens with a wave of your foot under the rear bumper. With this amenity, you don't have to let go of your items to press a button on your key.
On top of that, every grocery bag and suitcase will conveniently fit into the expansive cargo room provided by the Lincoln MKX. With the rear seats folded down, you'll be privy to 68.8 cubic feet of storage.
Entertainment for Every Passenger
The 2017 Lincoln MKX also offers some of the most advanced infotainment gadgets on the market. From the standard eight-inch touchscreen, you'll have access to all the perks of the user-friendly SYNC® 3 system. Both Apple CarPlay™ and Android Auto™ also come standard and allow you to quickly connect to your own music and applications.
If you want a clear path to your next destination, opt for the voice-activated touchscreen navigation setup. With the handy pinch-to-zoom functionality of the maps, you'll be able to see your targeted location better than ever before.
Test Drive Your 2017 Lincoln MKX Today!
At Ray Price Lincoln, we want to help you appreciate every moment you spend behind the wheel of your vehicle. That's why we offer a lineup of dependable cars furnished with industry-leading accessories to make every ride through Stroudsburg, Lehigh Valley, and Nazareth that much more exciting.
So, instead of hesitating to check out all the details found in the cabin of the 2017 Lincoln MKX, stop by our showroom for more information or contact us to schedule your test drive today!