The Lincoln MKX is one of the best vehicles that drivers in Dickson City, Scranton and Mt. Pocono could ask for. A luxury crossover SUV, the Lincoln MKX is packed with big features that even the most discerning consumers won't be able to resist. One area where driving the Lincoln MKX delivers serious benefits is in terms of technology, with features that make for a fun ride and also provide an easier driving experience than you've ever had before.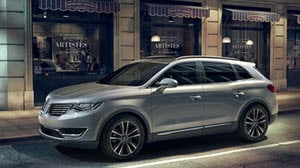 Discover the best technology features of the 2016 Lincoln MKX and learn why this is your best choice when you want an amazing luxury crossover SUV.
Pick a Soundtrack for Your Next Road Trip
For many drivers, a road trip just isn't complete without the perfect soundtrack. However, without the right audio system, you won't be able to enjoy your music the way that you want and deserve. Fortunately, if your next luxury crossover is the Lincoln MKX you'll have access to one of the best car audio system's that there is.
Inside the 2016 Lincoln MKX, you'll be able to play your music through a Revel Audio System that delivers a live music experience you won't find anywhere else. In addition to its thirteen powerful speakers-nineteen if you choose the available Revel Ultima-the Revel system provides three great sound settings, which are Onstage, Audience and Stereo.
Improve Your Driving Experience
While most drivers in Scranton, Mt. Pocono and Dickson city think of car technology strictly in terms of entertainment, some of the best technology that exists is focused on making vehicle's easier and safer to operate. The 2016 Lincoln MKX offers safety and utility tech features that you won't be able to resist.
For example, the Lincoln MKX features several active safety systems for complete protection on the road, including a lane keeping system to help you control your car. Other great utility technology that you'll be able to use while driving the Lincoln MKX includes a 360-degree camera, an enhanced active parking assist and a hands-free power liftgate.
Technology to Set the Mood
As much as anything else, picking a great luxury crossover SUV is about getting the incredible driving experience you deserve, and this is one of the area's where Lincoln MKX technology delivers like no other SUV on the market. The Lincoln MKX provides its owners with several tech features that make for a great driving atmosphere that you won't be able to get enough of.
The most impressive piece of mood technology you'll find in the Lincoln MKX is its active noise cancellation system, which makes for an ultra-quiet ride. Additionally, if you like to feel the wind in your hair, then you're going to love the Panoramic Vista Roof.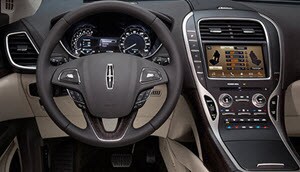 Schedule a Test Drive of the 2016 Lincoln MKX
If you're a fan of innovative car technology, then the only luxury crossover SUV for you is the Lincoln MKX. Delivering great technology across several areas, the Lincoln MKX makes a great vehicle choice for every driver. Experience the great technology of the 2016 Lincoln MKX in person by visiting Ray Price Lincoln today and scheduling a test drive.
Ray Price Lincoln is your top source for a full-service dealership that is focused on your needs, and your needs alone.