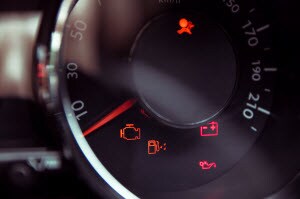 With all the exciting features in the Lincoln MKX, it's easy to ignore the dashboard warning lights in favor of the more fun, interactive elements-until the lights go on, that is. When that happens, whether you're headed into work or out for a relaxing weekend drive, you'll want to know just what it means and how to respond.
This Lincoln MKX dashboard light guide will help you make sense of the most important warning lights. Prepared for you by Ray Price Lincoln, it'll show you what to do when a light starts to glow on your drive down the streets of Stroudsburg, Lehigh Valley, and Nazareth.
Brake System Warning

Identifiable by the word BRAKE, this light will illuminate when the parking brake is in use and the ignition is on. If you disengage the parking brake, and this light is still on, your brake fluid is running low or there's a brake system fault. Either way, have your vehicle inspected to prevent a decreased braking performance.
Engine Coolant Temperature Warning
This light has the image of a thermometer, and if it glows while you're driving, your engine is overheating. When this happens, stop the vehicle as soon as you safely can, and switch the engine off. Get your coolant level checked by a mechanic as soon as possible.
Low Tire Pressure Warning

The glowing exclamation point indicates low tire pressure. It'll flash on momentarily when you start the car to confirm that it's working, but if it stays on while the engine is running or when driving, check your tire pressure. (And, if the light doesn't illuminate when you first start the car, have the system checked to ensure it's working.)
Oil Pressure Warning
When the oil pressure warning kicks on, you'll recognize it as the one marked with an oil can. If it's turned on while the engine is running, there's a problem somewhere. The engine oil may be running low, or there may be a system malfunction. If you check the Lincoln oil levels and they seem fine, have your car checked out to diagnose the issue.
Service Engine Soon

This warning is emblazoned with the image of an engine. If it lights up while the engine is running, then it indicates a problem with the vehicle emissions control system. You may be experiencing engine misfire, and hot exhaust gases could damage the catalytic converter. You can still drive, but be gentle on the pedals and service your vehicle soon.
Schedule a Service Appointment Today!
Follow our Lincoln MKX dashboard light guide, and you can respond the right way to any warnings that come your way. You'll keep your Lincoln MKX safer and more reliable in the long run.
When a warning light flashes, whether for fluid levels, tire pressure, or something else entirely, schedule an appointment with our service center right away. We'll have our trained technicians take a closer look.
Ray Price Lincoln is happy to serve Lincoln MKX drivers around Stroudsburg, Lehigh Valley, and Nazareth. Contact us today!