When you're looking for a large, luxury SUV, you may be overwhelmed by choices. But if you want a vehicle with unparalleled engine power and a stately interior, the 2018 Lincoln Navigator is the ideal choice. With its first major redesign in over 10 years, this SUV has blown competitors out of the water.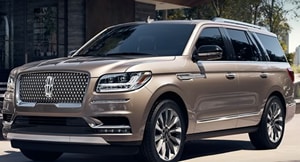 The fresh face and updated technology included in the Lincoln Navigator has drivers of Stroudsburg, Lehigh Valley, and Nazareth eager to test out every device in this imposing SUV. To give you a sense of what this aggressive car is equipped with, continue reading this 2018 Lincoln Navigator review provided by Ray Price Lincoln. Once you see just how advanced every inch of this vehicle is, you'll be yearning to take a seat behind the wheel.
Lincoln Navigator Performance & Power
Thanks to a massive overhaul, Lincoln finely redesigned numerous parts of the 2018 Lincoln Navigator, including its motor. This SUV now contains a 3.5L turbocharged engine that produces 450 horsepower and 500 lb-ft of torque. Plus, the 10-speed transmission puts you in ultimate control of how your vehicle is driving.
By choosing the Lincoln Navigator, you no longer need a truck to tow heavy cargo. The Heavy-Duty Trailer Tow Package featuring Trailer Backup Assist™ gives you the power to park your cargo with the touch of a knob. Plus, with a projected 9,000 pounds of towing ability, this SUV doesn't give a second thought about carrying hefty cargo. On top of that, the Lincoln Navigator has shed roughly 200 pounds from its overall weight, providing more agility when navigating tight corners.
Lincoln Navigator Interior Innovation
Any remodeling requires an update to the vehicle's cabin. The 2018 Lincoln Navigator doesn't disappoint with its plush fabrics and detailing. When sitting in the driver's seat, it's obvious that comfort is the highest priority. The unprecedented 30-way, power-adjustable Perfect Position seating keeps you relaxed and satisfied for every drive.
Still, the 2018 Lincoln Navigator doesn't just stop there. Passenger enjoyment is also a key focus in this vehicle. The second-row seats provide audio and climate controls, while the third-row has power-reclining capabilities for added leisure.
If you want to keep your kids entertained on your way to your shore house, the Lincoln Navigator offers 10-inch screens on the back of each front head rest. This positioning allows for both the second-row and third-row passengers to have clear visibility of the entertainment. Plus, you can control the content of what's being watched or you can give your passengers free reign of their choices.
The driver will also find a host of handy features to assist you on the road. The head-up windshield display offers important information at eye-level, such as your speed, the time, and the outside temperature.
Lincoln Navigator Exterior Excellence
The 2018 Lincoln Navigator provides eye-catching contours and architecture that draw you to explore more of this SUV. You'll find unique appointments on every inch of its body, proving that this vehicle goes above and beyond expectations. The face of this car features an updated grille that creates a beautiful background for the iconic Lincoln Star.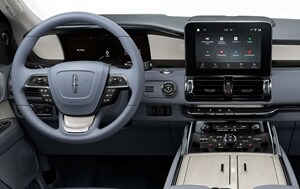 In addition, the optional 20-inch painted aluminum wheels and the 22-inch Ebony Black gloss-painted wheels give one-of-a-kind style to the Lincoln Navigator. For vision on the darkest nights, the reimagined LED headlamps adapt to the speed of your car and widen the illuminated area when the vehicle is moving faster.
Check Out the 2018 Lincoln Navigator Today!
After reviewing everything that's supplied by this alluring SUV, it's difficult to resist learning more about the 2018 Lincoln Navigator. When you're ready to see each amenity offered in this vehicle, head over to Ray Price Lincoln. We'll give drivers of Stroudsburg, Lehigh Valley, and Nazareth the details you need to start your own journey in the 2018 Lincoln Navigator. Contact us today if you have any questions!