With a full-size luxury SUV, you can expect a powerful performance, a stylish interior, and high-tech features. Both the Lincoln Navigator and Cadillac Escalade deliver a riveting ride, but which one is best suited for your trips around Stroudsburg, Lehigh Valley, Easton, and Nazareth?
Our team wrote this 2020 Lincoln Navigator vs. 2020 Cadillac Escalade comparison to give you an in-depth look at what makes these vehicles stand out from other models in its class and how they differ from each other.
If you have any questions while reading through our review, don't hesitate to reach out to one of our staff members at Ray Price Lincoln.
2020 LINCOLN NAVIGATOR VS 2020 CADILLAC ESCALADE: PERFORMANCE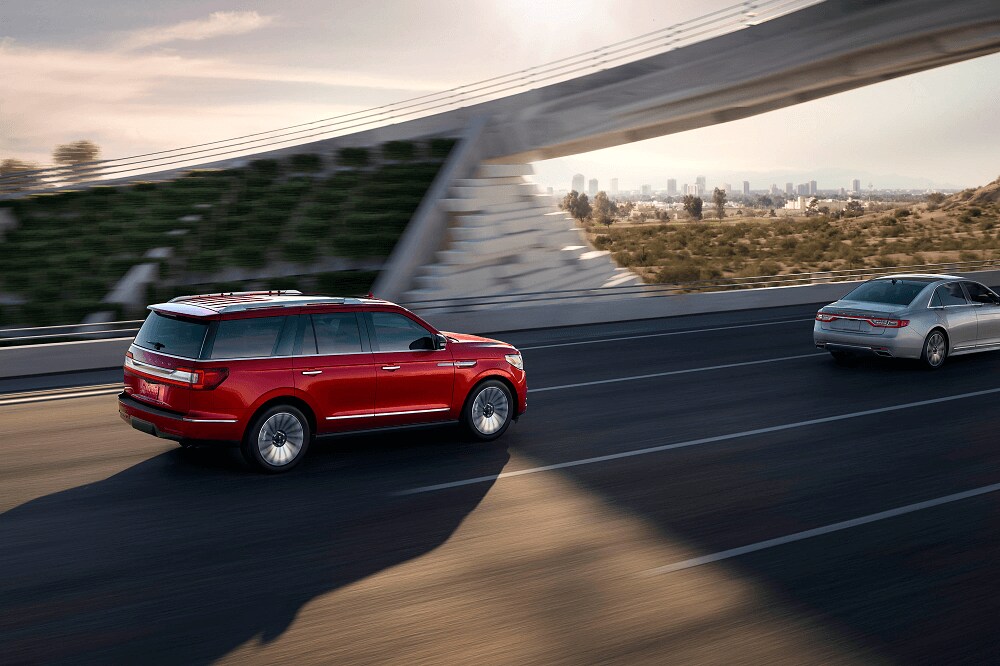 The 2020 Lincoln Navigator delivers a great amount of power with its 3.5L twin-turbocharged engine. Paired with a 10-speed automatic transmission, it produces 450 horsepower and 510 lb-ft of torque.
While the 2020 Cadillac Escalade doesn't mess around with its 6.2L V8 engine and 10-speed automatic transmission, it can only produce 420 horsepower and 460 lb-ft of torque.
Fuel Efficiency
Having a lot of power under the hood is only one aspect of overall performance. Fuel economy plays a role as well-and the Lincoln Navigator outperforms the Cadillac Escalade again.
When properly equipped, the Lincoln Navigator achieves an EPA-estimated 16 city/22 highway MPG.1 By comparison, the Cadillac Escalade peaks at an EPA-estimated fuel economy of 14 city/23 highway MPG. In the end, the Lincoln Navigator provides the ideal blend of power and efficiency.
Maximum Towing Capacity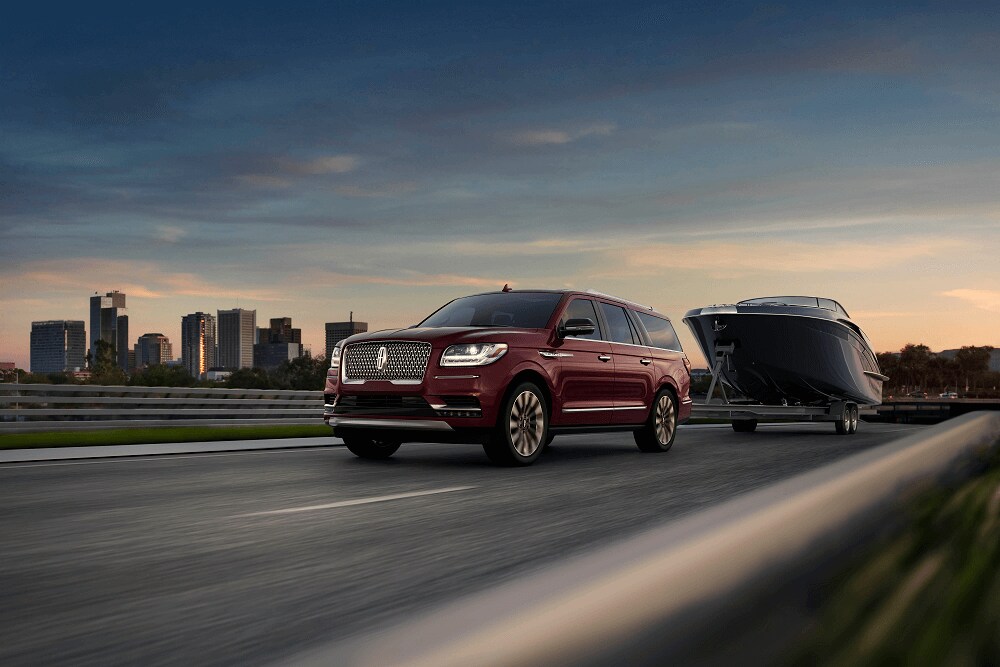 Whether you're hauling supplies back home for a weekend project or embarking on a trip down to the lake, you may need some extra space-and power-to bring along your gear. While the Lincoln Navigator and Cadillac Escalade both give you the ability to attach a trailer to the rear end, the Lincoln Navigator surpasses the Cadillac Escalade in terms of overall strength.  
When properly configured, the maximum towing capacity for the 2020 Lincoln Navigator reaches 8,700 pounds. The Cadillac Escalade is capable, but its maximum towing capacity of 8,300 pounds limits its ability to tow heavy trailers and supplies.
Are you already convinced that the Lincoln Navigator is the SUV for you? Apply for Lincoln financing easily online today!
LINCOLN NAVIGATOR VS CADILLAC ESCALADE: COMFORT AND LUXURY
Luxurious yet cozy, the Lincoln Navigator and Cadillac Escalade both have cozy cabins to ensure you and your passengers are thoroughly relaxed during your drives.
First up, they both come equipped with heated and ventilated front seats! The Escalade also comes with 12-way power drive and front passenger seats, which provides 4-way power lumbar control as well. While that's notable, it can't compete with the Perfect Position front seats in the Lincoln Navigator.
The Perfect Position front seats conforms to your body. That way, you can happily unwind as you're driving to work, school, or home. With Active Motion® massage, you may never want to leave the driver's seat! Soothe your muscles by activating this massage system.
Along with its tech-packed cabin, the Lincoln Navigator also has a spacious interior. For instance, behind the third row of seats, you'll have up to 20.9 cubic feet of cargo space. With the second and third rows folded down, the cargo space comes to an impressive 103.3 cubic feet.
As for the Cadillac Escalade, it offers 15.2 cubic feet behind the third row. Even with the second and third rows folded down, it maxes out at 94.3 cubic feet.
LINCOLN NAVIGATOR VS CADILLAC ESCALADE: TECHNOLOGY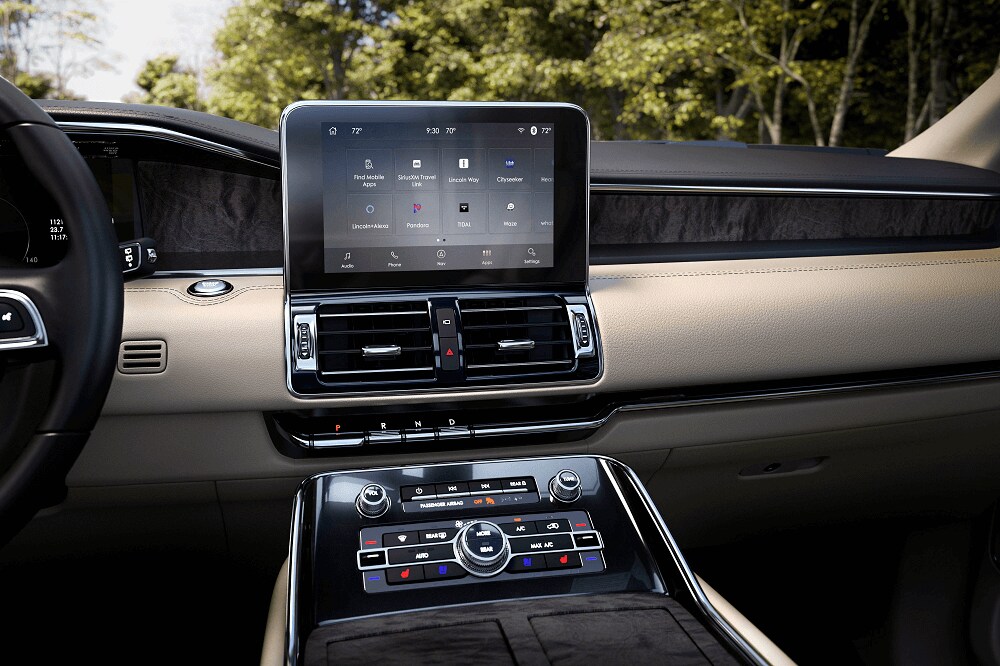 It's important to keep your eyes on the road and be mindful of your immediate surroundings. Luckily, the 2020 Lincoln Navigator and 2020 Cadillac Escalade make it easy to do so with their head-up displays.  
This helpful display projects the speedometer, tachometer, and navigation onto the front windshield at eye level. However, the Lincoln SUV utilizes digital light projection in its head-up display. This advancement allows the display to be more visible in ambient lighting conditions.
Standard Safety Features
Both the Lincoln Navigator and the Cadillac Escalade have cutting-edge driver-assisting technology. As you'll learn, though, the Lincoln Navigator is armed with more standard safety systems.  
No matter which trim level you choose, the Lincoln Navigator will feature Pre-Collison Assist with Automatic Emergency Braking. This driver-assistance system warns you of a possible front-facing collision. If immediate action is required, it'll step in and automatically apply the brakes.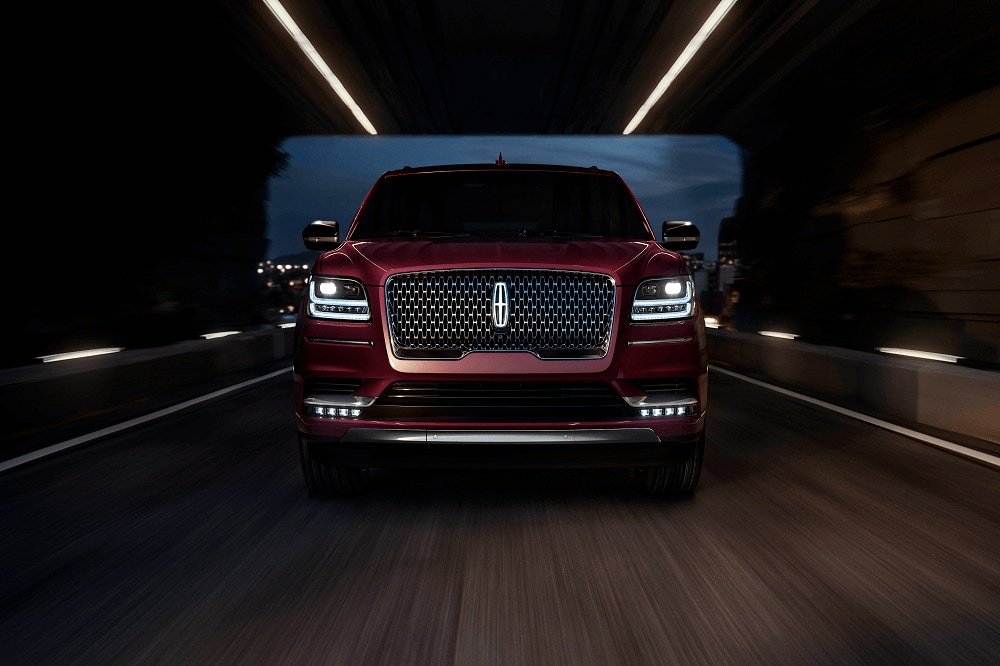 The Escalade features its own version of this system: Automatic Emergency Braking. However, you'll have to upgrade to a higher trim level to have it-and that's not the only difference in standard safety between these SUVs.
The Lincoln Navigator comes standard with the SOS Post-Crash Alert System™, a useful feature that will active after a collision has been detected. Once it's activated, it'll flash the lights and sound the horn three times to inform nearby drivers of the accident area. The Cadillac Escalade doesn't have this type of advanced post-crash system in any of its trim levels.
In addition to many standard safety features, Lincoln vehicles also come with many service benefits! Learn more about them here today.
Which SUV Is Prepared to Go Off-Road?
While you may never see the Cadillac Escalade or Lincoln Navigator fording through deep rivers, these SUVs can embark on off-road trails and bumpy terrain. One of the best ways to determine a model's off-roading capability is to look at its ground clearance.
For the Lincoln Navigator, the ground clearance is an impressive 9.7 inches, making it easy for you to scale obstacles on the trail ahead. Comparatively, the Cadillac Escalade is much closer to the ground. With a mere eight inches of ground clearance, you'll need to be careful taking this SUV over any surface that isn't properly paved.
TEST DRIVE THE 2020 LINCOLN NAVIGATOR TODAY!
It's clear the 2020 Lincoln Navigator and the 2020 Cadillac Escalade are capable SUVs with potent engines and advanced technology. However, the Lincoln Navigator surges ahead thanks to its versatile performance, comfort-oriented features, and standard safety systems.  
To get more information on the 2020 Lincoln Navigator, drivers in Stroudsburg, Lehigh Valley, Easton, and Nazareth can contact us at Ray Price Lincoln today. Our accommodating staff will address any questions you might have before helping you get behind the wheel for a test drive!
1 EPA-estimated city/hwy mpg. See fueleconomy.gov for fuel economy of other engine/transmission combinations. Actual mileage will vary.