The similarities between the 2018 Lincoln MKZ and the 2018 Acura TLX are plentiful. Each model offers performance, style, and handling.
However, Ray Price Lincoln compared the 2018 Lincoln MKZ vs. the 2018 Acura TLX to highlight the key differences between these two models. This makes it easier for everyone around Stroudsburg, Lehigh Valley, and Nazareth to choose the model that's best for them.
Engine Performance Comparison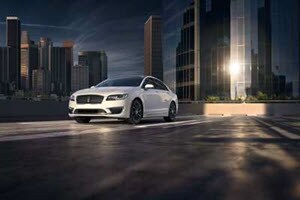 Both the Lincoln MKZ and Acura TLX have engines that give you the performance best suited to your needs.
The Lincoln MKZ sports an available twin-turbocharged, 3.0L V6 engine that produces 400 horsepower and 400 lb-ft of torque.
By contrast, the Acura TLX sports an available 3.5L V6 engine that produces 290 horsepower and 267 lb-ft of torque.
2018 MKZ vs 2018 TLX: Safety & Technology
Extensive safety features can be found throughout the 2018 Lincoln MKZ and Acura TLX to keep you protected behind the wheel.
When looking at the Lincoln sedan, the Pre-Collision Assist with Pedestrian Detection will help you avoid potential accidents by alerting you if you come too close to either a vehicle or pedestrian. Also, active braking may automatically apply if an accident is considered imminent.
When looking at technology, The Lincoln Way™ App and Lincoln Connect™ form a unique and convenient way to interact with your Lincoln MKZ. Some of the features included allow you to start your Lincoln MKZ remotely, locate your vehicle in a crowded lot, and lock or unlock the doors.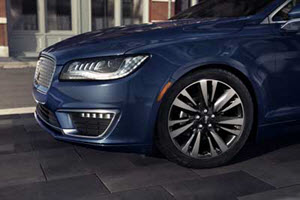 The 2018 Lincoln MKZ features a Collision Mitigation Braking System™ that'll also alert you of head-on collisions. Acura's integration system is less versatile and user-friendly than the system you'll find in the new Lincoln MKZ.
Interior & Exterior Style
Luxury has been engrained within the Lincoln MKZ and Acura TLX, helping each model garner attention and praise.
HID headlamps with signature LED lighting illuminate the roads for the Lincoln MKZ. The aerodynamic shape of this 2018 model is complemented by bold, pronounced lines.
Also, the entire car will come to life as you approach with your key fob, as ambient lighting makes both the door handles and interior glow. Handcrafted stitching adds appeal to the leather-trimmed seats, while an available, fully retractable panoramic glass roof will help you enjoy the weather on sunny days.
The 2018 TLX offers a luxurious look both inside and out. However, when compared to the elegant detailing of the 2018 Lincoln MKZ, it lacks the same level of refinement. 
2018 Lincoln MKZ vs 2018 Acura TLX: Conclusion
While both these models make for a luxurious, powerful ride, the 2018 Lincoln MKZ has so much appeal thanks to its mix of style and performance. For anyone car-shopping around Stroudsburg, Lehigh Valley, or Nazareth, taking the 2018 Lincoln MKZ out for a spin is the best way to be sure this car is for you.
Thankfully, Ray Price Lincoln makes this simple. Just contact our showroom, and you can schedule your very own test drive today!