If you're a consumer in Lehigh Valley, Nazareth or Stroudsburg interested in driving a luxury sedan, then you'll find your perfect vehicle in the Lincoln MKX. With irresistible styling and unbelievable performance, the Lincoln MKX is the luxury vehicle that you need and deserve.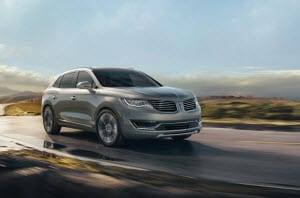 Out of all the great reasons to drive the Lincoln MKX, the best is this vehicle's inclusion of high-end technology. The technology features of the Lincoln MKX are both exciting and useful, the perfect combination when it comes to car technology.
Lincoln SYNC 3
When you're choosing a new vehicle, regardless of the class, you want to make sure that you're getting a top of the line infotainment system. Fortunately, if you drive the Lincoln MKX, you'll be getting SYNC 3, one of the best infotainment systems you'll find in any vehicle.
With SYNC 3, you'll have a wide range of excellent features. For example, this infotainment system provides hands-free calling so that you can keep your eyes on the road. There is also available SiriusXM Satellite Radio, giving you access to over 150 high-quality channels. Finally, voice controls make using your system quick and easy.
Lincoln My Way
One of the most exciting parts of driving a modern car is being able to seamlessly link your vehicle to your smartphone. While many cars only allow smartphone linking for music and calls, this Lincoln SUV allows you to control multiple vehicle systems thanks to the Lincoln My Way app.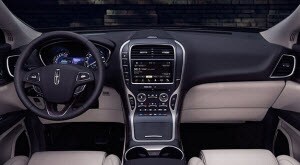 While using the Lincoln My Way app on a compatible smartphone, you'll be able to remotely start and unlock your vehicle, pay for reserved parking and request roadside assistance. When your vehicle is being serviced, you can also schedule pickup and delivery. The Lincoln My Way app is one of the best pieces of Lincoln MKX technology you've ever experienced.
Lincoln MKX Premium Audio
For many drivers, there's nothing more important in a luxury vehicle than a high-quality audio system. If you value fantastic sounding music, then you'll love the Lincoln MKX's premium Revel Audio System.
The Revel Audio System is one of the best car stereo system's you've ever heard. Nineteen available speakers allow sound to fill every inch of your vehicle. You can also customize the sound in your vehicle thanks to three listening modes: Audience, Onstage and Stereo. Lastly, you can choose between a 12-channel or 20-channel amplifier. With the Lincoln MKX and the Revel Audio System, every drive will be accompanied by a great soundtrack.
Check out more exquisite details of this luxury Lincoln SUV here.
Enjoy Lincoln MKX Technology Today!
When you're shopping for a luxury vehicle, you want to be certain that you're getting a thrilling and useful technology, which is the perfect reason to make your next vehicle the Lincoln MKX. With a SYNC 3 system, the Lincoln My Way app and a Revel Audio System, the Lincoln MKX provides the great tech you need. Examine the best Lincoln MKX technology by taking this vehicle for a test drive today at Ray Price Lincoln.
By visiting Ray Price Lincoln, customers from Lehigh Valley, Nazareth and Stroudsburg can find their perfect new or pre-owned Lincoln vehicle. Visit us today if you're ready to start driving the luxury vehicle of your dreams.