The 2017 Lincoln Continental is an incredibly advanced luxury large car on the market right now for buyers near Stroudsburg, Lehigh Valley, and Nazareth. Well known for its impeccable style, comfortable interior, and exceptional performance, the vehicle is an excellent option. One of the Lincoln Continental's best features is its advanced technology.
Read all about it in this Guide to the 2017 Lincoln Continental Technology from the team at Ray Price Stroud Lincoln, then check it out in our online inventory to get a better look. 
To learn even more about the 2017 Lincoln Continental's styling, technology, and safety features, read our Lincoln Continental review here. 
Driver-Assist Technology Available in the Lincoln Continental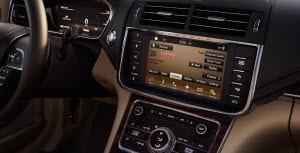 The 2017 Lincoln Continental is designed to make your life a little more comfortable. With driver-assist technology, your vehicle will help you get a better feel for your surroundings and keep you and your passengers protected.
These features include the Adaptive Cruise Control with Stop & Go functionality. This system works by utilizing radar and cameras to sense and adjust to the distance and pace of other vehicles on the road. The vehicle can come to a complete stop with traffic and restart when the driver ahead moves forward.
Several other features utilize the same sensing system, including Pre-Collision Assist with Pedestrian Detection, which searches the road ahead for other vehicles, pedestrians, and moving objects, and provides a warning to the driver. If the driver doesn't respond in time to come to a complete stop or avoid the object, the system can help reduce the collision severity by pre-charging the braking system.
SYNC® 3 Infotainment System Available in 2017 Lincoln Continental
If you want to have a hands-free, voice-activated entertainment and information operating system, then this is an excellent option for you. SYNC® 3 makes it easy for you to place a call, send a text message, and choose your music, all while using your voice.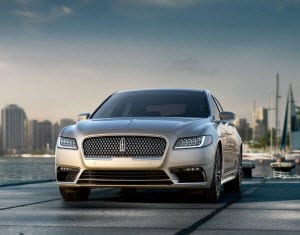 The system can even integrate with your favorite applications like Pandora, Spotify, and iHeartRadio. With a combination of on-screen buttons, physical push buttons, turn dials, and voice command, using the system is simple. The center stack is easily within reach from both driver and passenger seats, and the seamlessly intuitive design makes it a breeze to learn how to use.
Lincoln Continental Revel Ultima® Audio System Available
In the 2017 Lincoln Continental, your morning commute is a joyful experience, especially thanks to its incredible audio system. With 19 speakers placed by sound engineers around the vehicle for the best possible sound, the system offers a concert-style listening experience. With three different listening modes, the Lincoln Continental makes it easy for you to have the right tuning, depending on what you're listening to.
Experience the Technology in the 2017 Lincoln Continental Today
The 2017 Lincoln Continental is a popular vehicle for luxury car buyers near Nazareth, Stroudsburg, and Lehigh Valley. When you get behind the wheel of the vehicle, you'll understand why. Powerful, comfortable, luxurious, and fully filled with the best technology available, the vehicle is incredible. Get a closer look now at Ray Price Stroud Lincoln.
Check out the vehicle in our online inventory now, then schedule a test drive.