There are plenty of benefits that go along with buying used cars. Whether you're a teen driver looking for your first ride or a longtime driver who's simply never done it before, buying used opens the possibilities to a wide variety of cars you may have never considered before!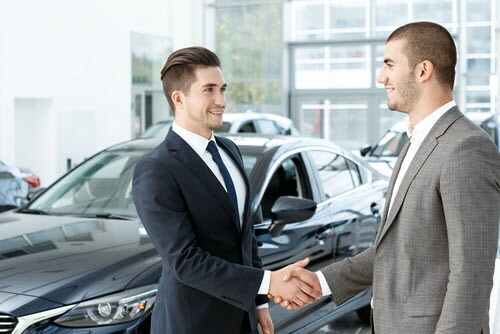 At Ray Price Lincoln, we want to give you some tips for buying your first used car, so you can maximize its value to you and enjoy cruising down the roads of Stroudsburg, Lehigh Valley, and Nazareth for a long time to come!
Step 1: Determine Your Used Car Budget.
Whether you're buying a car outright or financing it via monthly payments, you should make sure you're comfortable with the budget. Remember, your budget includes the costs of owning and maintaining the car, not just the price of the vehicle itself. Factor in fees for tax, title, and registration, plus insurance payments and vehicle maintenance.
If you're financing your purchase, try limiting your monthly rates to 20% of your take-home pay. It'll give you more peace of mind when it comes to managing your car payments, which makes ownership more fun!
Step 2: Explore Your Used Car Options.
Once you've decided how much you want to spend, start searching for cars that match your budget. You can search used cars at nearby dealerships and visit the manufacturers' websites to learn more about the car models you're interested in.
You can even consider buying certified pre-owned cars, which have been inspected and refurbished. Typically, too, they have extended warranties that cover the costs of unexpected repairs. Our certified pre-owned inventory carries only vehicles that pass a rigorous 200-point inspection, so you can rest assured of quality and longevity.
You should plan to get vehicle history reports as well, which will give you a used car's full history, including past owners, accidents, and maintenance records.   
Step 3: Take the Used Car for a Test Drive.
When you've found a few cars you like, it's time to start scheduling test drives. You'll never know if a car's right for you until you get behind the wheel and experience its performance and features. As you're testing out your favorites, consider the following items:
Comfort and Convenience. When you're in the driver's seat, make sure every function fits to your liking. Do you have visibility? Is there enough head/legroom? Is the infotainment system intuitive?
Outer and Inner Looks. If the car's appearance is important to you, make sure you like outer and inner colors, designs, and style in person just as much as you did from behind the computer screen.
Performance. This is the most important part. Be sure to drive your car at city and highway speeds to see how it handles each and test out the brakes to ensure they respond to your liking.
Start Your Used Car Search Today!
Follow our tips for buying your first used car, and you'll find the perfect ride for you! You can get started today. At Ray Price Lincoln, we have plenty of used cars on our lot, and our certified pre-owned inventory carries top-quality used Lincoln luxury vehicles.
If you live near Stroudsburg, Lehigh Valley, or Nazareth, you can schedule a test drive of any car model you like! Our experienced automotive experts will be standing by to answer any questions you may have.