While the 2017 Lincoln MKZ and 2016 Lincoln MKS may vary in size and some of their offered features, they're both luxury sedans with a lot to offer. But how can customers in the Stroudsburg, Lehigh Valley, and Nazareth, PA, areas know which model is right for them? In this Lincoln MKZ vs Lincoln MKS comparison, our team at Ray Price Lincoln breaks down the important features of each vehicle so you can determine which will better fit your needs.
Let's take a deeper look into this 2017 Lincoln MKZ vs Lincoln MKS car comparison by checking out performance.
Lincoln MKZ vs Lincoln MKS Powerful Lincoln Performance
No matter which Lincoln vehicle you're driving, you'll find an exceptionally powerful engine under your hood. Even though the 2017 Lincoln MKZ is a midsize sedan, the 2L turbocharged 4-cylinder engine it's equipped with can still generate 245 horsepower and 275 lb-ft of torque. And because the engine benefits from direct fuel injection, it can maintain 21 city/31 highway mpg.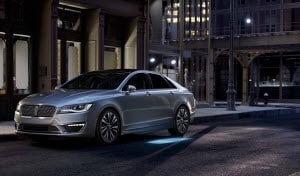 The 6-speed SelectShift® automatic transmission with paddle shifting allows for seamless and efficient gear changes, and continuously controlled damping detects body movement along with steering and braking dynamics in a fraction of a second and adjusts the suspension accordingly. This will enhance your turning radius and greatly augment vehicle stability.
The 2016 Lincoln MKS also includes a 6-speed SelectShift® automatic transmission and continuously controlled damping. However, the car's engine is slightly bigger to accommodate the full-sized sedan frame. The 3.7L V6 engine with dual overhead camshafts can maintain 17 city/26 highway mpg while generating 304 horsepower and 279 lb-ft of torque. The Lincoln MKS also includes Torque Vectoring Control, which can improve vehicle safety when rounding a sharp turn at higher speeds.
Lincoln MKZ vs Lincoln MKS: Comparing Interior
Since it's a midsize sedan, the Lincoln MKZ is bound to be a bit smaller than the MKS. Although the difference in size is not dramatic and the Lincoln MKZ is still roomy in comparison to other competitors, with 96.6 cubic feet of passenger space and 15.4 cubic feet of luggage volume.
Soft touch seating adds extra comfort for all passengers, while front-seat occupants can enjoy 10-way adjustable heated power seats with 2-way lumbar support. And driver's seat memory will recall your favorite seating preferences.
The expansive media bundle in the Lincoln MKZ includes a 10.1-inch LCD touchscreen with message center. SYNC® 3 technology complements this vivid screen with a host of features like AppLink™ and 911 Assist®, which you can easily activate with the sound of your voice. SiriusXM® Satellite Radio and the Lincoln premium 11-speaker audio system complete this robust package.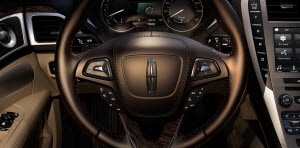 The Lincoln MKS offers a larger luxury sedan feel compared to the Lincoln MKZ due to the slight size difference. The larger Lincoln MKS has 105.8 cubic feet of passenger volume and 19.2 cubic feet of trunk space. SYNC® 3 is also included in the sedan, but the LCD screen is only 8 inches. Additionally, the audio system includes only 10 speakers.
However, the powered driver's seat is adjustable as many as 12 ways, offering more comfort configurations. Ambient cabin lighting is also added for a touch of gentle luminescence.
Lincoln Safety Features  
As safety is of the utmost importance in all Lincoln vehicles, the Lincoln MKZ and Lincoln MKS share most their safety features as well as a 5-Star Overall Safety Rating from the National Highway Traffic Safety Administration.
The Personal Safety System™ is a key feature in both vehicles. This system uses a complex network of sensors to determine the severity of impacts, size of passengers, and tension of seatbelts. It will then deploy the advanced airbags accordingly to offer occupants the most protection possible. Seatbelts may automatically tension to add even more security. This system is part of what creates the trademark Safety Canopy®.
Both models also share an SOS Post-Crash Alert System™. This system was designed to make your car easier to locate in the event of an accident. As soon as SOS senses airbag deployment, it will automatically begin sounding the horn and flashing lights.
Several other basic features are common between the two vehicles, like Electronic Brake-Force Distribution and AdvanceTrac® Stability Control. They also have a rearview camera with guidelines.
Lincoln MKZ vs  Lincoln MKS Comparison Conclusion
When it comes to Lincoln vehicles, you can't go wrong. Both the 2017 Lincoln MKZ and 2016 Lincoln MKS are exceptionally well-built cars with a ton of safety and technology features. 
The main difference between the Lincoln MKZ and Lincoln MKS is size and power. If you are looking for a larger luxury sedan with more power, the Lincoln MKS may be right for you. If a midsize sedan packed with luxury features is what you are looking for, the Lincoln MKZ may be the right car for you. The question is, which model fits your lifestyle?
To decide between Lincoln MKZ vs Lincoln MKS, you'll have to schedule a test drive. Residents of the Stroudsburg, Lehigh Valley, and Nazareth, PA, areas can contact Ray Price Lincoln for more information. Don't wait - schedule your test drive today!